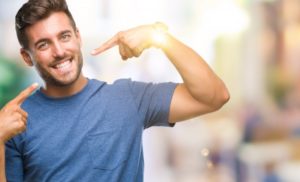 Has your dentist recently told you that one of your teeth needs a crown? At first, you might wince at the idea of having a dark metal spot in your smile. Luckily, that's not the case with modern dental crowns! These days, your dentist uses advanced techniques to create a personalized restoration that mimics the shade of your natural tooth enamel and flawlessly blends in with the rest of your smile. Here's an interesting, easy-to-understand look at the science of how your dentist color-matches your dental crown.
Determining the Color of Your Teeth
Replicating the color of teeth isn't as easy as it may seem. It actually requires extensive training and precision. After all, natural tooth enamel comes in a variety of shades, from off-white to yellowish. For this reason, a perfectly white crown may not be the best fit for your smile.
Your dentist also has to consider the numerous variables that determine a tooth's color, such as its hue, chroma, and value. Hue refers to the natural colors within the enamel, like gray, yellow, or red, while chroma describes the saturation of the hue. The value is the overall level of lightness or darkness to the shade.
Finding the Perfect Dental Crown Color
To select the ideal color for your crown, your dentist uses a shade guide. This plastic or metal plate consists of various shades of fake porcelain teeth laid out in a specific order. Your dentist will hold this guide up to your smile to find the shade that most closely matches your enamel. This process may seem simple, but many factors come into play.
For example, the lighting in the treatment room can alter the appearance of your tooth. That's why your dentist will try to view your tooth under natural lighting. They may ask you to stand near a window to accomplish this. Fluorescent lights are usually the second choice if natural light isn't available.
To minimize distractions that could prevent your dentist from seeing the true color of your teeth, you'll probably be asked to not wear bright lipstick or other types of makeup. They might also recommend against wearing brightly colored clothes.
Just to be on the safe side, your dentist may even place a gray bib over your clothing to avoid color contrasts. It also serves another purpose by giving your dentist's eyes a neutral resting place. In their training, they learned that when comparing teeth to a shade guide, they shouldn't look at the teeth for more than seven seconds at a time. Otherwise, the rod cells in their eyes could get too used to the color. Glancing at the gray bib for a few seconds gives these cells time to reset.
Enjoy Natural-Looking Smile Repair
Once your dentist has found the perfect color for your dental crown, they'll send the details to a dental lab (or their in-house technology if they use CEREC). That way, you can rest easy knowing your smile can be repaired without anyone else even noticing!
About the Practice
At Harrisonburg Family and Cosmetic Dentistry, our team believes that everyone has the right to a healthy smile that makes them feel confident. To make the dental crown process more convenient, we have invested in CEREC, which allows us to create and place a crown on the same day! If you'd like to learn more about dental crowns in Harrisonburg, VA, contact us at 540-432-6616.