Children's Dentistry in Harrisonburg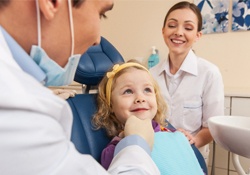 As the head of household, one of the best things that you can do is take care of your loved one's health—especially your children. After all, their pearly whites depend on you to help stay in great condition. You don't have to take on the copious job of maintaining their oral health alone, though. Your children's dentist in Harrisonburg is here for you through every stage of your child's smile development.
---
Bring Your Child to Visit Us Early On!
Are you unsure of when to bring your little one in for their first dental visit? The answer is simple: as soon as you see their first tooth bursting through the gums or when they turn one year old.
Allowing your child to see the dentist at a very young age promotes positive dental experiences, allows your dentist to check that their smile is developing correctly, and also starts the dentist-patient relationship off on a friendly note!
---
What to Expect at Your Child's First Dental Visit
Here at Harrisonburg Family & Cosmetic Dentistry, we often receive calls from parents asking what it's really like for their child to visit the dentist for the very first time. They don't want their children to be scared—and neither do we! As mentioned above, we want to provide positive dental experiences for all of the little ones that visit our office, giving them the right idea about dental care and dentists from an early age.
Typically, their first visit is used to get familiar with our office and team members. Our pediatric dentists are very friendly and inviting, working patiently to teach you and even the youngest members of your family about necessary dental care throughout the years.
Then, our dentists will evaluate the development of their smile and clean any of their existing teeth or show you how to massage their gums if they are still very young.
---
Protecting Your Child's Teeth at Home
Regular dental appointments with a children's dentist is the perfect time to get advice on great dental care at home, like:
Brushing your child's teeth with a soft toothbrush and water until they are old enough to spit on their own.
Beginning flossing as soon as two teeth stand next to one another.
Or monitoring your children's brushing habits as they get older to make sure they are brushing and flossing appropriately.
Contact Harrisonburg Family & Cosmetic Dentistry today to schedule a visit for your child the next time you're free! Our friendly staff warmly welcomes patients of all ages—from 1-year old's to more mature patients with different dental concerns. Call us today!