Invisalign Orthodontics in Harrisonburg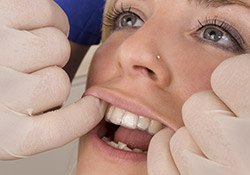 Almost every patient who visits us at Harrisonburg Family & Cosmetic Dentistry wants to have a straight, beautiful smile. Unfortunately, only a rare few people are born with perfectly straight, flawless smiles. That's why our skilled Harrisonburg dentists and team offer a wide variety of cosmetic dentistry solutions to create flawless smiles. One of the many cosmetic dental treatments we provide is the Invisalign alignment tray orthodontic system. We use Invisalign to straighten patients' smiles quickly and comfortably. If you want to find out more about Invisalign, contact us to schedule a consultation today with Dr. DeNicola.
---
What is Invisalign?
Invisalign is a clear alignment tray orthodontic system. Rather than brackets and wires, Invisalign uses a series of clear aligners to shift teeth into their ideal position. Because you can remove the aligners throughout your treatment, you won't have to worry about changing your diet or oral hygiene routine during Invisalign orthodontic alignment.
---
How Does Invisalign work?
Traditional braces use brackets and wires to shift teeth into alignment. Brackets are attached to the front surfaces of teeth, and wires connect to them are adjusted to place pressure on the brackets that shifts the teeth into their ideal alignment. The clear, plastic Invisalign trays offer similar results. Each set of aligners represents the smile one step closer to the desired result. Patients will wear the alignment trays for about two weeks at a time and exchange them for the next set in the next set in the series. Every six to eight weeks, patients will visit our office, so we can examine their progress. After about twelve months of treatment, patients achieve perfectly aligned smiles.
---
Is Invisalign Better Than Regular Braces?
Not for every patient. While advances in the Invisalign process have made it possible for us to treat the majority of alignment concerns with Invisalign, there are still some patients with severe orthodontic issues who will need to undergo treatment with traditional bracket and wire braces. However, for patients who want to straighten their smiles without adversely impacting their appearances, Invisalign may offer the best treatment solution. There are some benefits to Invisalign orthodontics compared with traditional braces such as:
Completely clear aligners mean you'll look great throughout the treatment process
Low profile, smooth plastic alignment trays won't irritate soft tissue
Removable aligners mean you can continue to eat the foods you love and you won't have to make any changes to your regular brushing and flossing routine
---
Am I a Candidate for Invisalign?
No treatment is right for every patient. In order to determine whether or not you're a good candidate for Invisalign, we'll need to evaluate your smile. We recommend Invisalign for patients in a number of situations including:
Patients who can't fit numerous orthodontic visits into their busy schedules
Patients who have allergies or sensitivities to metal
Patients who want to straighten their smiles without compromising their appearance during treatment
Patients who play wind instruments
Patients who play sports