Root Canal Therapy – Harrisonburg, VA
Protecting Teeth by Removing the Infection
Over the years, people have fallen victim to the misconception that root canal therapy in Harrisonburg is painful. It has left many individuals fearful of the procedure and some have even avoided having dental work done because of this idea. Fortunately, the actual root canal is painless. In fact, the point of the surgery is to remove the infection that is causing immense pain. In order to help you keep your natural teeth, you can expect the dentists at Harrisonburg Family & Cosmetic Dentistry to recommend root canal therapy. Not only will it clear out the infected pulp that exists in the inner layers of your tooth, but it will also work to restore your smile and help you take back your oral health. Schedule your appointment today by calling our office.
---
What is a Root Canal?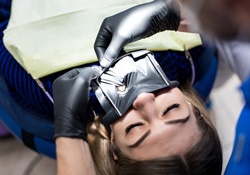 A root canal is a procedure that addresses damage or decay that has reached the inner layer of your tooth, the pulp. What might start as a regular toothache will quickly advance into searing pain if left untreated. You might also experience some of the following symptoms:
Increased sensitivity to hot or cold foods/beverages
Fever
Pimple-like sores on your gums
Difficulty chewing or biting
Facial swelling
If any of the signs listed above are present, it would be in your best interest to contact our office as soon as possible. If we are able to treat it with root canal therapy, you will not have to worry about tooth extraction and eventual tooth replacement.
---
Why Do I Need a Root Canal?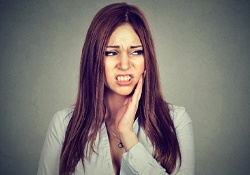 Many people believe a root canal is only necessary when a person doesn't take proper care of their oral hygiene and serious decay is the result. However, there are other reasons a root canal may be the suggested method of treatment. These include:
A crack or chip within the tooth
Multiple dental procedures that have resulted in damage to the tooth
Injury to a tooth
---
Recovering From a Root Canal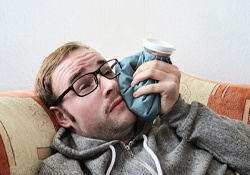 Once your root canal procedure is complete, there will be steps you need to take to properly recover and heal. It's important not to rush the healing process, as it can result in further damage to your tooth and additional dental work.
Some of the appropriate steps you should follow include:
Take any prescribed antibiotics or pain medication as instructed by your dentist. The discomfort should subside within a few days. If you are not prescribed pain medicine, you may opt for an over-the-counter pain reliever.
Avoid chewing or biting on the side of your injured tooth until your temporary crown is replaced with a permanent one.
Consume soft foods in the few days after your procedure.
Get plenty of rest and relax.
Maintain good oral hygiene but be gentle while brushing near the surgical site.
Don't skip any follow-up appointments with us, as we will need to evaluate your progress and check your restoration for any problems.
---