Meet Our Harrisonburg Dental Team
At Harrisonburg Family & Cosmetic Dentistry, our doctors are proud to have the ongoing support of such a capable and dedicated team that always puts the patient's needs first! They'll enjoy getting to know you and helping you feel at ease as you move from the front desk to the treatment chair, and we ensure that everyone undergoes a solid amount of continuing education each year in order to bolster their skills even further. To learn more about our hygienists, assistants, and more, keep reading:
Cassie, Reception/ Front Office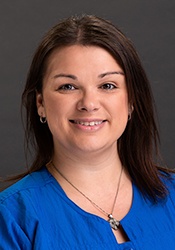 Cassie comes to us all the way from West Portsmouth, OH, and she'll likely be one of the first friendly faces you'll see when you come to visit us! While she is relatively new to dentistry, she actually has 13 years of experience in the medical field. As part of our front desk team, she says her favorite part about her job is helping and getting to know our wonderful patients. Away from the office, she likes to spend her time traveling, snorkeling, reading, crafting, woodworking, and taking her beloved Wheaten Terrier, Buddy, to the dog park.
Alexa, Scheduling Coordinator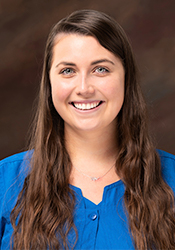 Alexa is originally from Northern Virginia but fell in love with Harrisonburg during her time at James Madison University. Today, as our scheduling coordinator, she enjoys being able to interact with patients on a personal level, as well as coming together with a team that all shares the same goal of improving oral health!
Outside of working hours, Alexa enjoys cooking healthy meals, painting, reading, and listening to music/podcasts. When she isn't at home, you can often find her riding her bike, going for a nice walk around the neighborhood, or taking a stroll to nearby Farmer's Markets.
Something interesting about Alexa: her summer job throughout college was with the local water authority. She spent every day hand painting 25-30 fire hydrants around the county!
Melba, Front Office/Insurance Coordinator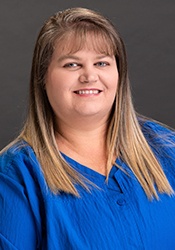 Melba first joined our office nine years ago, and she has 11 years of overall experience in the field. She earned her Associates in Accounting from the National Business of College, graduating with High Honors. Additionally, she is certified in CPR and First Aid, X-rays and CareCredit. Melba is currently a member of the American Association of Dental Office Managers (AADOM). Just being able to give patients a great smile means the world to her!
Originally from Broadway, Melba has a fiancé named Jeremie, a daughter named Brooklyn (who also works here!), and she also has 2 grandchildren, Ashlynn and Rhyatt. Outside of work, her hobbies include taking care of the animals on the farm (chickens, cows, goats, and pigs), being with family and friends, swimming, and fishing. Melba loves to go to the beach.
Something interesting about Melba: she has a big heart and enjoys helping anyone that she can.
Craig, Dental Hygienist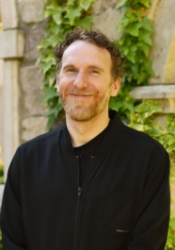 Craig has seven years of experience in dentistry, having spent the last five as part of our team. In the past, he attended both Bridgewater College and Virginia Commonwealth University, earning his Bachelor of Arts in Dental Hygiene from the latter. He loves the people he works with!
Craig originally hails from Bridgewater, and he is married with three children named Winter, Autumn and Titus. His interests include soccer, hiking, camping, backpacking, and playing music.
Something interesting about Craig: he once spent several weeks in the rainforests of Costa Rica doing ecological research.
Brandy, Dental Hygienist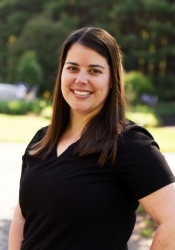 Brandy has been working as a dental hygienist since 2013, and she loves getting to know her patients well and helping them regain their best smiles. She studied at Blue Ridge Community College and earned her Associates in Dental Hygiene from Virginia Western Community College's joint venture program at Danville Community College. She is certified in CPR and local anesthesia.
Originally from right here in Harrisonburg, Brandy and her husband Billy have a daughter named Chloe and a son named Cooper. In her free time, she enjoys being with family, camping, shopping, and swimming.
Something interesting about Brandy: Her family is her world and ice cream is her weakness!
Heidi, Dental Hygienist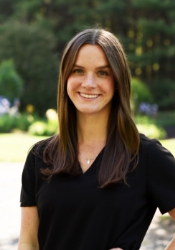 Heidi is from Grottoes, and she attended the Dental Hygiene program at Lord Fairfax Community College. She also has advanced training in first aid, CPR, local anesthesia, and periodontal laser therapy. Today, what she enjoys most about her job is being able to assist her patients with their needs so they have the ability to feel better with a healthy, radiant smile!
Outside of work, Heidi is very close with her family, and they often enjoy getting together to cook a meal or ride bikes around the park. As for personal hobbies, you can usually find her doing activities outdoors, traveling, or playing with Bruno, her Labradoodle.
Something interesting about Heidi: she can lick her elbow!
Brooklyn, Dental Assistant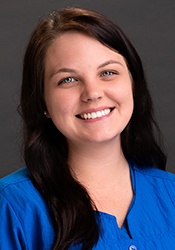 Brooklyn has been working in the dental field for two years and counting. She began her education in the dental assisting program at Massanutten Technical Center and is currently working on an Associates from Blue Ridge Community College. She holds a certification in dental radiology. Today, her favorite part of her job is being able to help people get their smiles back!
Brooklyn lives in Timberville, and she has a three year old daughter named Ashlynn. Her hobbies include playing outside with Ashlynn, making primitives, watching Grey's Anatomy, and spending time on the farm.
Something interesting about Brooklyn: she's been showing cattle since she was nine years old.
Ciende, Dental Assistant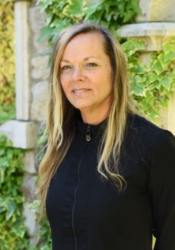 Ciende is from here in Harrisonburg, and she's been a member of our team for 14 years with 18 years spent in the dental field as a whole. She's also certified in X-rays and has advanced training in CEREC and mini dental implants. She loves seeing transformations happen in patients' lives once their smiles are improved.
Ciende is the busy mom of two very active children, and her interests outside of work include spending time with her family, going to the beach, and doing mud runs!
Maria, Dental Assistant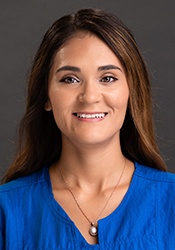 Maria received her dental education from the Massanutten Technical Center. She also has additional training in dental radiation. She is originally from Mexico and speaks fluent Spanish, which goes a long way towards helping our Hispanic patients feel right at home.
Maria has a small family who tend to be quiet until you get to know them. When she has free time, she enjoys cooking, hiking, and athletic activities. She has a big, outgoing personality!
Something interesting about Maria: She loves being outdoors but is terrified of all types of bugs.
Tori, Dental Assistant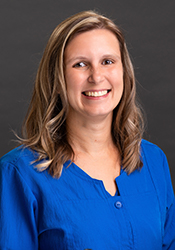 Tori's career in the dental field spans over 15 years so far, and she loves working with such amazing patients at Harrisonburg Family & Cosmetic Dentistry! She completed her X-ray certification at Lord Fairfax Community College.
Originally from Broadway, Tori is happily married with three children. When she isn't busy at the practice, she has a passion for baking and owns her own cupcake business. In fact, she even brings them to work sometimes, which her other team members very much appreciate.
Sharon, Office Administrator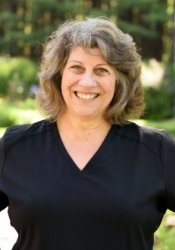 Originally from Mount Solon, Sharon has been working in dentistry for three and a half years so far. She earned her Bachelor of Science in Computer Science from Virginia Tech and is currently a member of the AADOM (American Association of Dental Office Managers). She loves working with such friendly and caring people!
Sharon and her husband Dale have two grown children. When she isn't at the office, she enjoys reading, helping her husband on the farm, gardening, and cooking.
Something interesting about Sharon: she grew up on a dairy farm and now lives on a beef and poultry farm.