Dental Implants in Harrisonburg
Permanent, Natural-Looking Tooth Replacement
When it comes to replacing missing teeth, dental implants are in a league of their own. A dental implant is a small titanium post that is placed directly into the jawbone in order to mimic the root structure of a lost tooth. Compared to any other treatment, they offer the most secure, natural-looking, and durable solution available, and you can get them right here in Harrisonburg at our practice.
---
Implant-Retained Crowns & Bridges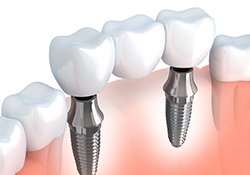 If you are missing a single tooth, it will be restored using an implant-retained crown. After you have healed from the placement procedure, your dentist will attach a small metal screw called an abutment to the implant post that will stick out above your gum line. This will then be topped with an all-porcelain crown, after which it will be virtually indistinguishable from your other teeth.
For multiple missing teeth in a row, two of these crowns can be placed on either side of the space in someone's smile. They'll then can be attached to prosthetic teeth, forming an implant-retained bridge.
---
Implant-Retained Dentures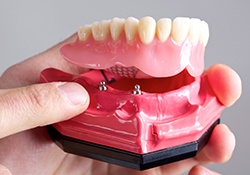 Dental implants are quite versatile and can even be used to support a full or partial denture. Implant-retained dentures offer a number of advantages over a traditional removable prosthetic:
Because the denture is affixed to the jaw, it will never slip, slide, pop, or click unexpectedly.
The implants will actually support the jawbone from within, which helps the dentures maintain their original fit for much longer.
Implant-retained dentures enable a patient to have a bite more similar to natural teeth. This will allow them to eat foods traditional denture wearers typically have to avoid, such as raw vegetables and cooked meats.
Learn More About Implant-Retained Dentures
---
Mini Dental Implants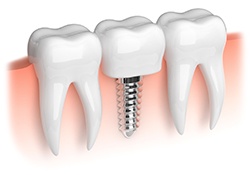 One of the basic requirements a patient needs in order to successfully receive dental implants is a strong and healthy jawbone to support the posts. However, a patient who has been missing teeth for a while might not have this due to bone degeneration caused to tooth loss. With mini dental implants, even these patients can now benefit from this state-of-the-art treatment.
As the name indicates, mini-dental implant posts are much shorter and thinner than traditional ones, requiring less jawbone structure to be successfully placed. These implants are strong enough to support an entire full denture! Plus, thanks to their reduced size, they can often be placed and restored much faster than traditional implants.