Dentures & Partials in Harrisonburg
Get Your Complete Smile Back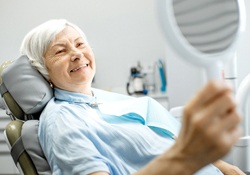 Multiple missing teeth can be a true burden in a wide variety of ways. They can make you less likely to smile because you feel self-conscious, and they can also affect your ability to eat and speak comfortably. At Harrisonburg Family & Cosmetic Dentistry, we help patients faced with this problem by using custom-made, natural-looking dentures and partials. We even offer digital dentures, which streamline your treatment process and provide the highest-quality prosthetics possible.
---
Who Is a Good Candidate for Dentures?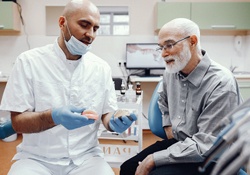 If you are suffering from low self-esteem because of your missing teeth, experiencing pain or infections in your mouth, and have lost more than a few teeth, you may be eligible to receive dentures in Harrisonburg. Traditional dentures are also a great solution for patients who would rather forgo a surgical procedure (i.e., dental implants) and opt for a restoration that is removable and more affordable. When you visit us for your consultation, we will make sure your gums are healthy enough to support dentures.
---
Types of Dentures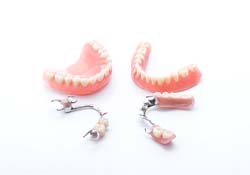 Modern dentistry offers a few different types of dentures, all of which are custom-made to fit a patient's unique mouth. During your consultation with your dentist in Harrisonburg, we will help you determine which one is best for your circumstances. Here is an overview of the types of prosthetics we offer:
---
Partials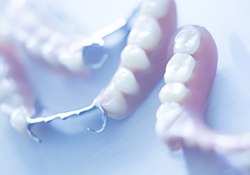 A partial (also known as a partial denture) can be used to replace multiple missing teeth along a single arch while fitting in seamlessly among a patient's remaining teeth. They can be fabricated to fit a patient's unique dental structure, and they are held in place using small clasps that attach to neighboring teeth.
Working much like a puzzle piece, partials offer patients many of the same benefits a full denture can provide to someone in need of replacing an entire arch of teeth. Not only do they generate a boost in confidence and enhance the aesthetics of a person's smile, but they also keep healthy teeth from shifting out of place and becoming loose, resulting in additional tooth loss.
---
Partial Dentures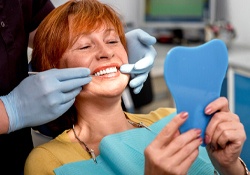 A partial (also known as a partial denture) can be used to replace multiple missing teeth along a single arch while fitting in seamlessly among a patient's remaining teeth. They can be fabricated to fit a patient's unique dental structure, and they are held in place using small clasps that attach to neighboring teeth.
---
Full Dentures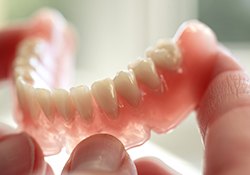 Modern-day dentures are much different than anything your parents or grandparents might have worn. Now, these prosthetics are smaller, sleeker, and more comfortable than ever, consisting of a gum-colored acrylic base attached to realistic-looking teeth. If you are missing an entire row of teeth, we can restore it using a full denture. This will sit directly on the gums using natural suction and/or a bit of denture adhesive.
---
Implant Dentures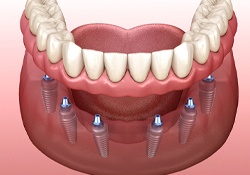 For patients who prefer a more permanent option than traditional dentures, implant dentures are an ideal alternative. They are held in place via prosthetic tooth roots that are surgically inserted into the jaw. While more costly in the beginning, their longevity, functionality, stability, and permanence are just a few of the many reasons so many patients are turning to them these days.
---
Digital Dentures Provide Streamlined Treatment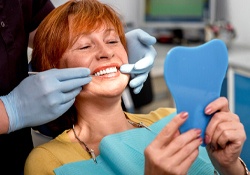 Most practices use old-fashioned methods of designing and creating dentures. At Harrisonburg Family and Cosmetic Dentistry, however, we have upgraded our process to include state-of-the-art technology. Digital dentures are designed using a high-tech Prime Scan rather than a manual impression. And instead of the design being sent to the laboratory, we can print the dentures right here in our office! Digital dentures require fewer visits to our office than traditional prosthetics and offer top-tier quality and function.
As your dentist in Harrisonburg, we will even keep the design of your dentures in our records, so if you ever have a mishap with your teeth, we can print a new prosthetic for you right away.
---
The Benefits of Dentures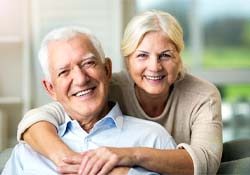 Dentures offer patients with missing teeth a chance to enjoy a full, complete smile once again. Their ability to take on a natural appearance that is tailored to your unique face is just one of the many benefits you can expect when receiving dentures. Others include:
Improved confidence because of your fully restored smile.
Greater quality of life as a result of your denture's ability to restore functionality when eating and smiling.
A cost-effective solution in comparison to other, more invasive solutions.
Their ability to last for several years with proper care and maintenance.
---
Dentures FAQs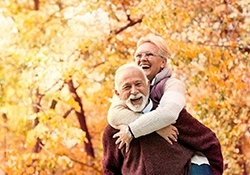 Patients have found great success with dentures in Harrisonburg. Whether it is a partial or full denture, it can improve a person's quality of life, making it possible to eat, chew, and speak with greater clarity and confidence. If you're preparing to move forward with your own set of dentures or are still contemplating the idea, we have compiled some of the most commonly asked questions about dentures to help you in your decision-making process. If you have any additional questions or concerns, please don't hesitate to contact us.
Can I eat normally with dentures?
While the early stages of denture-wear might make eating a bit more awkward, you can expect the adjustment phase to last only a short while. Your taste buds may be a bit off in the beginning but by following these easy steps, you'll be eating like normal with your new dentures:
Opt for softer foods in the beginning (i.e. eggs, fish, cooked vegetables, pudding)
Use your back teeth to chew, using both sides at the same time
For easier consumption, cut up larger pieces of food
How much pain is involved with getting dentures?
You can expect some minor discomfort and irritation when first being fitted for dentures. Your mouth has become accustomed to not having teeth, so it will take some time to adjust. If this is the first time you've ever worn dentures, you can expect the pain to last a bit longer, but if you're receiving a new set, it may not take quite as long to adjust to the newness. Keep in mind, if you require any teeth to be removed before receiving dentures, it is highly likely that the areas in which your extractions were performed will be sore and tender for quite some time, so you'll need to make sure you're taking proper measure to heal.
What do I do if my dentures pop up while eating?
If this happens, it may be that your dentures do not fit quite as well as they should. Schedule an appointment with us and allow our team to examine your restoration and oral structure. By improving the fit, you should be able to eat normally without any problems whatsoever.
How do you know when it's time to reline dentures?
Age can cause a shift in your jaw, resulting in your dentures no longer fitting properly. When this happens, you will need to have them relined, which will require your dentist to refit the base of your dentures. This will not only ensure they fit more snugly and comfortably, but it will reduce the likeliness that you will experience slippage or your dentures falling out.
Can I sleep in my dentures?
While it is possible for you to sleep in your dentures, it is recommended that you perform proper oral hygiene practices to keep them clean. Typically, dentures are cleaned at night and allowed to soak while you sleep. It is best if they are removed, so as to give your gums and bone a chance to relax from all the pressure your denture can cause.