Teeth Whitening in Harrisonburg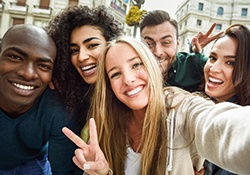 Most adults will notice their smiles have lost their youthful sparkle after a certain age -- and it makes sense when you consider all the things your teeth come in contact with on a given day. That first cup of coffee to greet the day, a mid-morning snack of berries (or chocolate), and, well, you get the picture. Fortunately, there is something to be done about dark, discolored, and/or stained teeth. Teeth whitening in Harrisonburg can provide the help you need! Keep reading to find out how it works and whether or not you are a great candidate today. (Spoiler alert -- you probably are!)
---
How Teeth Whitening Works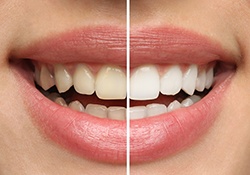 Teeth whitening is a popular non-invasive cosmetic treatment that lifts stains and discoloration from your teeth. Our office prefers the Opalescence Boost system, which contains potassium nitrate and fluoride to strengthen the tooth enamel as it whitens. This treatment also uses a special oxygenated system to maintain maximum effectiveness -- and it has special sensitivity-blockers that actually create a barrier to protect the nerves that cause many people to experience discomfort after whitening. That helps you enjoy a dazzling smile without any sensitivity that may be caused by other professional or over-the-counter whitening formulas. Opalescence Boost offers in-office and take-home treatments. For an in-office option, we paint the solution directly onto the surface of your teeth. It is chemically activated, so there is no need to sit under a hot light. A take-home treatment works with trays that are custom-fitted to your teeth. Simply fill them with the bleaching solution every night and gradually work your way to your brightest smile.
---
How Long Does It Take to Notice Results?
The total time your treatment takes depends on whether you wish to whiten in-office or overnight at home. An in-office treatment is completed in a single appointment that lasts a little under an hour, so you can feasibly come in on your lunch break and leave with a smile that is up to 8 shades brighter. If you prefer to whiten at a more controlled pace, a take-home treatment whitens over the course of about 2 weeks. You should notice some results after the very first application.
---
Dos and Don'ts After Whitening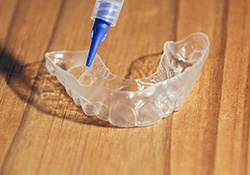 What you eat and drink right after whitening will make a big difference in how bright your smile stays. Avoid black coffee, tea, sodas, and highly-pigmented foods like berries, chocolate, tomato sauce, soy sauce, and similar items that could be easily absorbed right after the whitening treatment. This susceptibility to staining is why take-home treatments are recommended to be performed at night, after you are finished eating and drinking for the day.
---
Are You a Good Candidate?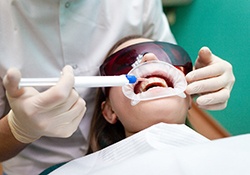 Most older teens and adults with healthy teeth can benefit from teeth whitening. Patients with extreme tooth sensitivity, however, may want to consider brushing with a whitening toothpaste instead. Talk to your cosmetic dentist in Harrisonburg about whether or not teeth whitening is right for you!
---
Schedule an Appointment Today!
If you are interested in revealing your most attractive smile with professional teeth whitening, we can't wait to get started! You are invited to request an appointment at Harrisonburg Family & Cosmetic Dentistry today.