Implant Dentures – Harrisonburg, VA
Dentures That Don't Slip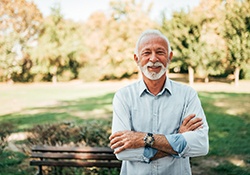 Traditional dentures still have their merits when it comes to replacing multiple teeth and letting patients enjoy fuller, healthier lives. But in many cases, you can give your dentures an upgrade by having them anchored to dental implant posts. Thanks to the stability of implant dentures, you can use your new teeth to chew all kinds of foods and speak with your friends without having to worry about them shifting around in your mouth. Get in touch with our team at Harrisonburg Family & Cosmetic Dentistry today to schedule a free 30-minute implant denture consultation.
Why Choose Harrisonburg Family & Cosmetic Dentistry for Implant Dentures?
Collaborative Approach to Dental Implant Placement
Complimentary Consultations for Implant Dentures
Personalized, Detail-Oriented Dental Care
What Are Implant Dentures?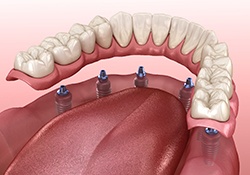 An implant denture refers to a full or partial denture that is supported by dental implants. Thanks to their bond with the jawbone, dental implants are able to replace the root structure of the teeth you lost. This not only gives your dentures a more stable foundation, but it also means your jawbone won't deteriorate from a lack of stimulation.
Fixed/Permanent Implant Dentures
In many cases, implant dentures are permanently anchored to the implant posts. These are known as fixed implant dentures, and many patients prefer them since they don't have to worry about taking them out to clean them.
Removable Implant Dentures
If there's a relatively low level of bone in your jaw, removable implant dentures may be a better choice than fixed ones. You can take out a removable implant denture on your own at any time.
The Implant Denture Process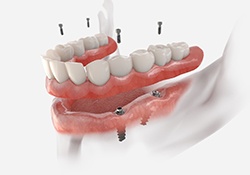 After taking X-rays of your mouth and determining what kind of implant dentures are right for you, we'll let you know if there are any preliminary procedures – like bone grafting – that you might need. Implant surgery can take place once all the necessary preparations are finished. Implant posts will be placed in your jaw; the exact number of posts can vary from patient to patient.
A natural process called osseointegration will let your dental implant posts slowly fuse with your jaw. Then, after the mouth has healed and abutments have been attached to the posts, our team can design your permanent dentures and anchor them to your implants. Your new smile will finally be complete!
Am I a Candidate for Implant Dentures?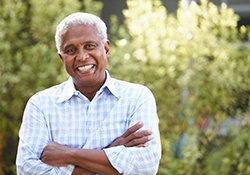 When recommending a tooth replacement solution, we always carefully consider the patient's goals and oral health needs. We may suggest implant dentures for you if:
You have lost multiple teeth.
Your mouth is healthy.
Your jaw has the required level of bone density.
You can commit to maintaining good oral hygiene to help your implant dentures last as long as possible.
Benefits of Combining Dentures & Dental Implants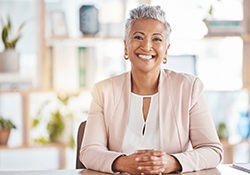 Many patients find that implant dentures look and feel just like their real teeth, and they tend to have an easier time eating their favorite foods and speaking clearly. Additionally, dental implants can keep the jaw from losing bone tissue and prevent changes to your facial structure. And thanks to the long lifespan of dental implant posts, you can expect to enjoy these benefits for decades.