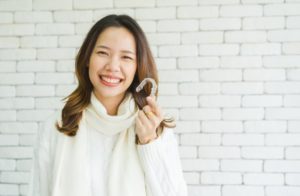 Invisalign clear aligners have become a known alternative to traditional braces, providing an avenue for people of all walks of life to enjoy a more convenient form of bite correction. Still, there is a certain segment of the population that could especially experience huge Invisalign benefits. Continue reading to learn about the career boost it can provide!
Understanding Invisalign
Unlike traditional braces, there are no metal brackets and wires with the Invisalign process. Instead, it uses a series of BPA-free clear-plastic aligner trays to direct teeth to their proper position. The process starts with the dentist conducting a careful smile assessment to determine your eligibility. What follows is the development of a digital smile plan that provides a visual representation of how you'll look after your treatment is completed.
A series of digital images and measurements are then sent to an in-network Invisalign lab that will craft your first set of aligner trays. After you're fitted and any necessary adjustments are made, the remaining trays will be ordered from the lab as your treatment proceeds, with each set being worn for two-week increments.
Professions Where Invisalign Can be Especially Helpful
For most adults, the thought of wearing metal braces brings back memories of high school. Furthermore, it can serve as a career hinderance. Thankfully, Invisalign provides a discreet alternative, something that's even more important for people in the following career areas:
Car sales
Acting
Singing
Retail
Broadcast journalism
The food service industry
As evidence of the importance of a nice smile, a study was funded by the American Academy of Cosmetic Dentistry. Researchers found that participants responded more favorably to images of people with attractive smiles than those with flaws. Other studies show that people with straight-white teeth are more likely to be hired or promoted over those with broken, crooked or discolored teeth.
Invisalign Benefits for Busy Professionals
Because of their clear and low-profile design, Invisalign allows you to straighten your teeth in a discreet manner. That means you won't have to endure an unattractive look while correcting your bite. Here are some of the other career benefits:
Confident interactions with clients – Knowing that your smile is being improved can provide a huge confidence boost, which can have a positive impact on clients.
An attractive and mature appearance – The last thing you want is to look like a teenager with metal braces. By wearing the discreet Invisalign trays, you'll look more professional.
Easy tray removal – What are you to do if you need to me with a client over lunch? It's simple; you can just remove the trays, which means you won't have to worry about having food lodged between your teeth. Simply clean your teeth and replace the Invisalign trays when you're done.
Likely, you have other curiosities about the Invisalign process. That's where a consultation comes in handy. Reach out to a local provider so you can find out how you can boost your career with Invisalign!
About the Author
An Invisalign Preferred Provider, Dr. Mario DeNicola earned his dental degree from the State University of New York at Buffalo School of Dental Medicine. To further expand his knowledge, he has completed over 300 hours of advanced postgraduate education. Dr. DeNicola helps his patients hit their career goals by providing Invisalign treatment at Harrisonburg Family & Cosmetic Dentistry, and he can be reached for more information or to schedule a visit through his website.