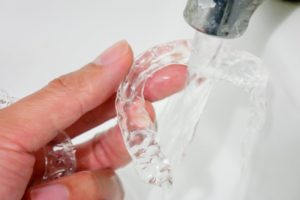 Once you've completed treatment with your Invisalign aligners, there is still yet another step to complete: wearing the retainer. Its purpose is to help the teeth maintain their position while the bone and connective tissue grow around the base to solidify your results. How long will you have to wear the retainers, though? As you continue reading, get the answer and discover why it's so important to follow the Invisalign post-treatment instructions.
How Long Must You Wear Your Retainer?
Because each patient is unique, every aspect of the Invisalign process is customized to meet his or her needs. However, the initial protocol for wearing the retainer is rather consistent across the board. It's typically recommended that patients wear the appliance for 12 to 22 hours a day – every day – for three to six months.
After this point, most patients can stop wearing the retainer during the day. Instead, they'll only need to wear it at night. This will usually need to be done for 12 months after Invisalign treatment has concluded.
The Danger of Not Following the Instructions
Invisalign treatment requires financial and time investments. The last thing you want to do is compromise your results after you've worked so hard to achieve them. Failing to follow the dentist's protocols could result in your teeth regressing.
Even after a retainer has been worn for up to six months, some patients may still be subject to their teeth shifting over time due to the pressure exerted when chewing. Thus, many dentists strongly recommend that patients wear a retainer several nights a week for the rest of their life.
Tips for Caring for Retainers
Because excellent oral health is always a primary focus, it's critical that you take proper care of your retainer, as to discourage bacteria growth. Thorough maintenance will also prevent any damage to your retainer.
Here are some tips to implement:
Always remove your retainer before eating and store it properly in its retainer case.
Every time you remove your retainer, you should rinse and gently brush it.
Avoid harsh chemicals like bleach or alcohol-based mouthwash, as they can damage the plastic.
Always remove your retainer before brushing your teeth, as to allow for a complete cleaning.
Once you're to the point of wearing an Invisalign retainer, you've already earned a brand-new smile. That should provide the necessary motivation to follow through with the minor steps to secure your results. By sticking to your dentist's instructions and taking proper care of your retainer, you'll be able to enjoy your beautiful and functional smile for years to come!
About the Author
Dr. Mario DeNicola earned his dental degree from the State University of New York at Buffalo School of Dental Medicine. Since then, he has remained active, taking over 300 hours of continuing education courses. An Invisalign Preferred Provider, Dr. DeNicola uses his expertise to help his patients correct their bite woes and experience the joy of achieving their dream smile. He practices at Harrisonburg Family & Cosmetic Dentistry, and he can be reached for more information or to schedule a visit through his website.