Dental Implant FAQ's – Harrisonburg, VA
Answering All of Your Dental Implant Questions
As one of the most popular tooth replacement options today, many people still have questions about dental implants. They're a newer technology than other solutions, and they possess a unique set of benefits that you can't get with traditional replacements. If you're thinking about implants for your smile, we have the useful answers to some dental implant FAQ's in Harrisonburg.
---
How Many Dental Implants Do I Need?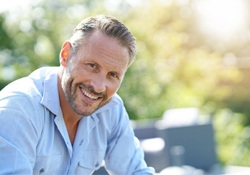 The number of dental implants that you need will directly depend on how many teeth you're missing, your desired results, and the condition of your oral health. Sometimes, bigger teeth may even require multiple dental implants to support them, which is another variable to consider. The best way to know how many dental implants you'll need is to contact our office for a consultation. We will carefully examine your mouth to provide the recommendation that you could benefit from most.
---
Does it Hurt to Receive Dental Implants?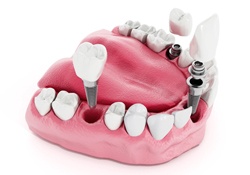 Many people hear about the dental implant process and automatically think that it's painful. The reality is that the discomfort you feel can be compared to a simple extraction. This is because your jawbone doesn't contain pain-sensing nerves, which makes the drilling part of the procedure more comfortable than you may think. We will also ensure that you're numb and relaxed before beginning the implant process.
---
How Long Do Dental Implants Last?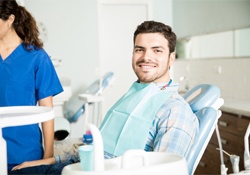 Many patients choose dental implants specifically for their longevity. Because they're made of high-quality titanium that is rooted in your bone, dental implants have the ability to last a lifetime with proper care. While their maintenance is low compared to other replacements, it's still vital that you practice good at-home oral healthcare. You should also be sure to visit our office for routine checkups to make sure that your mouth is healthy.
---
Does My Insurance Cover Dental Implants?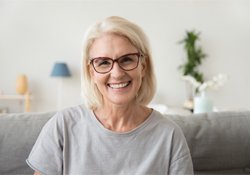 While your insurance may vary, most plans do not cover the cost of dental implants. However, certain aspects of the dental implant process like costs associated with the surgery may be covered by insurance. Our friendly and experienced team will work with you and your insurance company to minimize your out of pocket costs while also giving you a quality tooth replacement. We even offer financing options to allow our patients to receive the care that they deserve while remaining in their budget.
---