Dental Implant Aftercare – Harrisonburg, VA
Taking Care of Your New Smile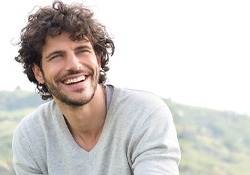 Once your dental implants are put into place, it's likely that you'll want to return to "business as usual." With your regular teeth, chewing, eating, speaking, and even smiling were like second nature; however, with new, prosthetic teeth replacing those that were once missing, you might go through an adjustment phase. Yes, dental implants look and feel completely natural, but if you lived with missing teeth for an extended period of time, you'll need to get used to the new fixtures in your mouth. You'll also need to take the right steps to keep it looking healthy, which is why Harrisonburg Family and Cosmetic Dentistry is happy to provide tips for effective dental implant aftercare in Harrisonburg. Should you have any questions, please don't hesitate to reach out and contact us today.
---
Make Oral Hygiene a Priority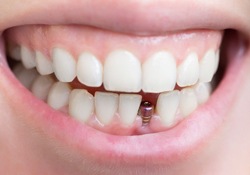 If you want to keep your oral health in check after receiving your dental implants, here are a few things you can do once at home:
In the first few days after placement, do not brush around the surgical site. After a few days have passed, gently clean the areas with a soft-bristled toothbrush.
Instead of reaching for your regular mouthwash, opt for hot water and a teaspoon of salt. By washing your mouth with this solution, it can encourage healing. Just be sure that the water isn't too hot. You can do this 2-3 times a day to speed up the healing process.
If possible, try to chew on the opposite side of the surgical site and always rinse your mouth after eating.
Apply ice or a cold compress if needed.
Get plenty of rest.
When flossing, you can use regular dental floss or a water flosser than pushes water out and effectively reduces plaque and inflammation.
---
Protect Your Dental Implants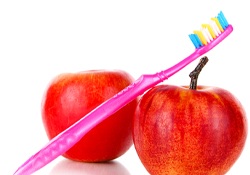 Although it might not always be easy, you should do your best to protect your new implants by:
Not eating until the anesthetic fully wears off
Avoiding eating or drinking anything that is hot on the first day
Not smoking or using tobacco until the implant sires are fully healed
Avoiding the surgical site by touching with your fingers or tongue
Avoiding strenuous exercise within the first 48 hours
---
Schedule Regular Recall Visits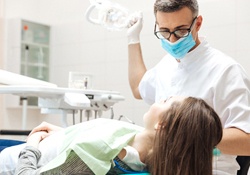 Once your implants are in place, it's important that you keep your post-operative appointments with our office. Your dentist will need to check how your implants are healing as well as clean not only your teeth but the area around the implants. After completing your dental implant placement, it's crucial that you see your dentist every six months for regular dental checkups and cleanings.
Don't be surprised, however, if in the early stages of post-operative care, you are expected to see one of our dentists more frequently.
---